Textbook Buyback & Return
Fight the high price of textbooks, and put cash in your pocket!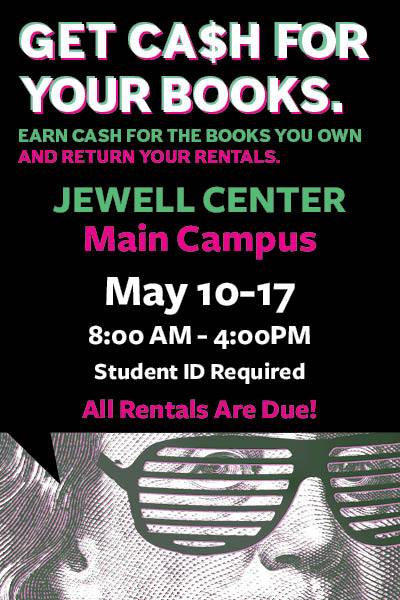 Textbook Buyback
Selling your books at your bookstores buyback is a great way to battle the rising cost of textbooks. When you sell your books back, you allow other students the opportunity to purchase their books from a stock of used inventory, saving those students money. Do something good for yourself and your fellow students; sell your books back today!
If you need to sell textbooks outside buyback dates, please go here.
Rental Returns
Make sure to return your rented books back to the bookstore by 05/18/2022 before 6:00 PM. You may return all rented books back to either the buyback window, or to one of our store registers. You must have your STUDENT ID.
Can't come in to the Bookstore? You can ship your rentals back. Ship to:
7250 State Avenue
Kansas City, KS 66112
Please make sure it says "Attention Bookstore" on the box and your information with your STUDENT ID number is in with the textbook(s). Must be POSTMARKED by 05/18/2022.
Any questions or issues with rentals? Please don't wait until last minute, contact us at (913) 288-7633 or email at bookstore@kckcc.edu.