Fight the high price of textbooks, and put cash in your pocket!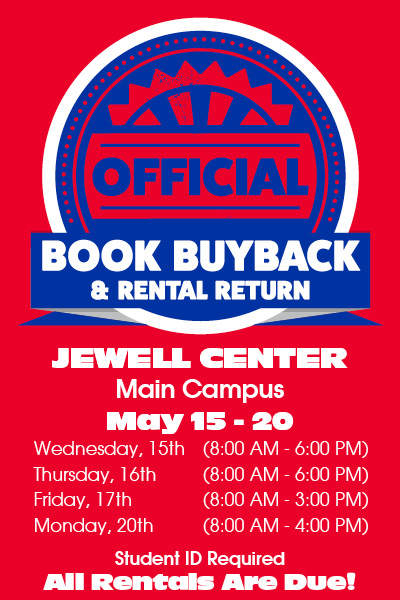 To get the most for your books, make sure they have no:

Ink Writing
Excessive
Highlighting
Water
Damage

If your books came as part of a set or package don't forget to bring:

CDs
Workbooks
Lab Manuals
Study
Guides
Cassette
Tapes
Practice
Tests
Models
TEXTBOOK BUYBACK
Selling your books at your bookstores buyback is a great way to battle the rising cost of textbooks. When you sell your books back, you allow other students the opportunity to purchase their books from a stock of used inventory, saving those students money. Do something good for yourself and your fellow students; sell your books back today!
RENTAL RETURNS
Make sure to return your rented books back to the bookstore by 5/20/2019 before 6:00 PM. You may return all rented books back to either the buyback window, or to one of our store registers. You must have your STUDENT ID.
Student ID required for ALL BuyBack Transactions and ALL Rental Returns
Student ID are obtained at Admission on the Upper Floor of the Jewell Center